my friends
my loved one
my family
Leisure activities and relaxation
Show
Fri 8 July
to
Sun 31 July
+ 2 dates
Fri 8 July

to

Sun 31 July

Mon 1 August

to

Wed 31 August

Thu 1 September

to

Sun 18 September
Chroma, the Monumental Experience of Amiens Cathedral
Descriptif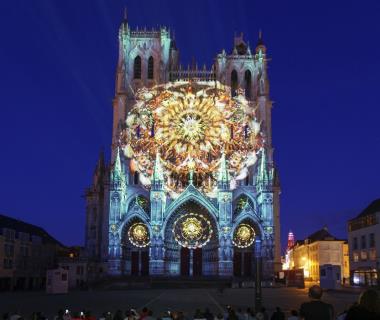 About this event
The Chroma light show uses colour as the guiding line for an immersive experience in the heart of a contemporary scenario. From the blue that evokes the dye merchants who contributed to the funding of the monument to a new polychromatic restitution, the highlight of this journey through time, the interplay of illumination and mystery on the cathedral continue to fascinate.
Accessibilité
Not accessible to people with wheelchairAccessible to people with hearing disabilitiesAccessible to people using a caneAccessible to people with mental disabilitiesResting space
• Foule très dense
• Quelques bancs en pierre sur le parvis / Places assises très limitées
• Possibilité de ramener son siège pliant
Dates
Friday 08 July 2022
to
Sunday 31 July 2022
Monday 01 August 2022
to
Wednesday 31 August 2022
Thursday 01 September 2022
to
Sunday 18 September 2022
49.8947098
2.30203491
Suggested breaks
Ready to go
Non communiqué
Advantage
Beds made upon arrival
Romance on the clifftops
Enjoy a relaxing stay for two in surprising accommodations shaped like a half-moon and perched on...
Non communiqué
Advantage
Bike hire offered!
Springtime break by the seaside
Dip into the Belle Époque setting...tales of wonderful times spent in this holiday resort can be...
By accessing this site, cookies are placed on your browser. Some are mandatory but you are in a position to check or uncheck some of them. In order to be able to access to the whole of functionalities's our web site, we advise you to keep the activating of different categories of cookies.
Allow
Settings
Decline